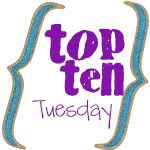 I'm linking up with OhAmanda's Top Ten Tuesday once again with a list of new recipes that I am trying, which I have been pinning like crazy on Pinterest.com to my "Yummy Food" board as of late! I have found a couple of different food blogs that have been tempting me with many simple, healthy, and delicious-looking recipes and I just want to try them all! Here are my top ten recipes I want to try very soon or which I have already tried.
1. Tortellini Spinach Bake – I made this a couple weeks ago and it was a BIG HIT with the fam – they all loved it! I added some cooked chicken so that my man would get his meat quota, but I honestly don't know that it really even needed it.
2. No-Bake Energy Bites – I tried the original recipe and really liked it, but then tried it again with some cocoa (and fewer chocolate chips) and loved it even more!!
3. Spinach Lasagna Roll Ups – I liked this one and so did my kids, but it wasn't a big hit with the hubby, as it was meatless
4. Pizzadillas with Homemade Pizza/Dipping Sauce – while this is very simple and is just another variation of pizza, it was nice for something different. Joe really liked being able to control how much sauce he got for each bite and the kids had fun dipping their pizzadillas in the sauce too.
Source: budgetbytes.blogspot.com via Jacquie on Pinterest
Source: budgetbytes.blogspot.com via Jacquie on Pinterest
5. Chorizo Sausage & Sweet Potato Enchiladas – haven't tried this one yet and I'm a little nervous about what the family will think, but it looks so interesting! However, I did discover that I couldn't find Enchilada Sauce in Canadian grocery stores to save my life, so the blog author pointed me to some homemade recipes that you can try here or here.
6. Cheesey Shepherd's Pie – a classic dish, but one I'd never made before. I think it was received well by hubby & kids, though Joe has an aversion to rosemary and thyme.
I think I would also consider cooking the veggies a bit first, because they were crunchier than I like.
7. Chicken Taco Bowls – This one was okay. I'm not a huge fan of cumin, so I might not include that if I make it again. I actually liked it bit more when I put it in a soft tortilla, but the spiciness was also not agreeing with my heartburn that I've been having lately. 😛
8. Baked Banana Bread Oatmeal – haven't tried this one yet, but I did try an altered single serving of cooked oatmeal with half a mashed banana, some chopped walnuts, brown sugar, flaxseed, cinnamon and nutmeg and it was pretty good! If I were to try that again, I think I'd do a whole banana and perhaps eliminate the walnuts, but I still plan on trying the baked version as well.
9. Pizza Puffs – haven't tried these yet, but don't they look yummy?? I'm not sure this could pass for a meal, but it would be a great appetizer!
10. Butternut Squash Gratin – haven't tried this one yet, but it does look very tasty! It's suggested as a side dish to a baked turkey, so not sure what I would serve it with?
Have you discovered any new recipes lately that you've loved??