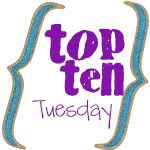 I'm linking up with OhAmanda's Top Ten Tuesday again this week with a list of my top pins that I've added on Pinterest since I joined the site. I really love how great it is for bookmarking ideas and things I find that I like. To have some variety, I'm going to choose one pin from 10 of my boards.
1. Dream Home – A beautiful breakfast nook by a nice big window – I have always had a thing for window seats & this looks like such a lovely place to sit and enjoy a cup of coffee or a good book!
2. Kids Room Ideas – A cute desk made by re-using an old crib
3. Yummy Food – Pie in a canning jar – how fabulous is that?? Now all I need is to find some cute little jars like that…
4. Art & Craft Ideas – I have a journal fetish and I especially love seeing the creative ways people decorate and create within their journals!
5. Photography – I love this maternity photo idea and loved that I was able to use it in our little maternity photo shoot we did this last weekend!
6. Party Ideas – I created this board to collect ideas for my 30th Birthday Party & this decoration was definitely one of the favorites of all my guests!
7. Quiet Book Ideas – I'm totally not a seamstress or super crafty person, but I love the idea of having quiet books for my kids. If only I had the time and ability to make some of these! This barn with animal finger puppets is especially cute!
8. Cute Boy Haircuts – I LOVE this shaggy mop of hair – if only my boy's hair would lay down so nice and flat like that!
9. Beauty – I'm getting so bored with my hair – I wish I could pull off this cute and sleek asymmetrical bob with bangs!
10. Organize – I love all things about organizing!! For someone with two small and useless entrances, this boot room is a dream come true!
Are you on Pinterest? What are your favorite ideas or pictures that you've pinned lately?